Elevate Your Mining Camp or Village Experience with Hilarious Entertainment
Fantastic Entertainment on site, indoors or outdoors
In the world of mining, where hard work and dedication are a daily norm, we understand the importance of striking the perfect balance between work and play. That's where we step in, bringing laughter and entertainment to your mining camp, village, or mine site, with our one-of-a-kind Comedy Hypnotist Show.
About Our Comedy Hypnotist Show
At the heart of our services is a unique and captivating experience that will leave your mining workers in stitches and make their well-being a top priority. Our Comedy Hypnotist Show is designed to provide a fun and memorable escape from the demands of mining life, promoting not only laughter but also relaxation and camaraderie.
Why Choose Our Comedy Hypnotist Show
Laughter and Fun Our professional comedy hypnotist delivers side-splitting performances that will have your workers rolling with laughter. It's a proven way to boost morale and reduce stress, and it's a great opportunity to ask, "Are you okay?".
Well-Being and Relaxation We believe that a good laugh is the best medicine. Our show offers a perfect opportunity for your mining crew to unwind, forget their worries, and bond with their colleagues, all while promoting mental health.
Customizable Performances We tailor our shows to suit your specific needs, whether you have a well-established event area and equipment or require us to bring everything along, even to the "wet mess" as a possible venue.
Safety First Our shows are designed with safety in mind. We ensure a secure and respectful environment for all participants and encourage discussions around mental health.
Unforgettable Experience We promise an experience that will be etched in the memory of your workers, enhancing their sense of well-being and job satisfaction.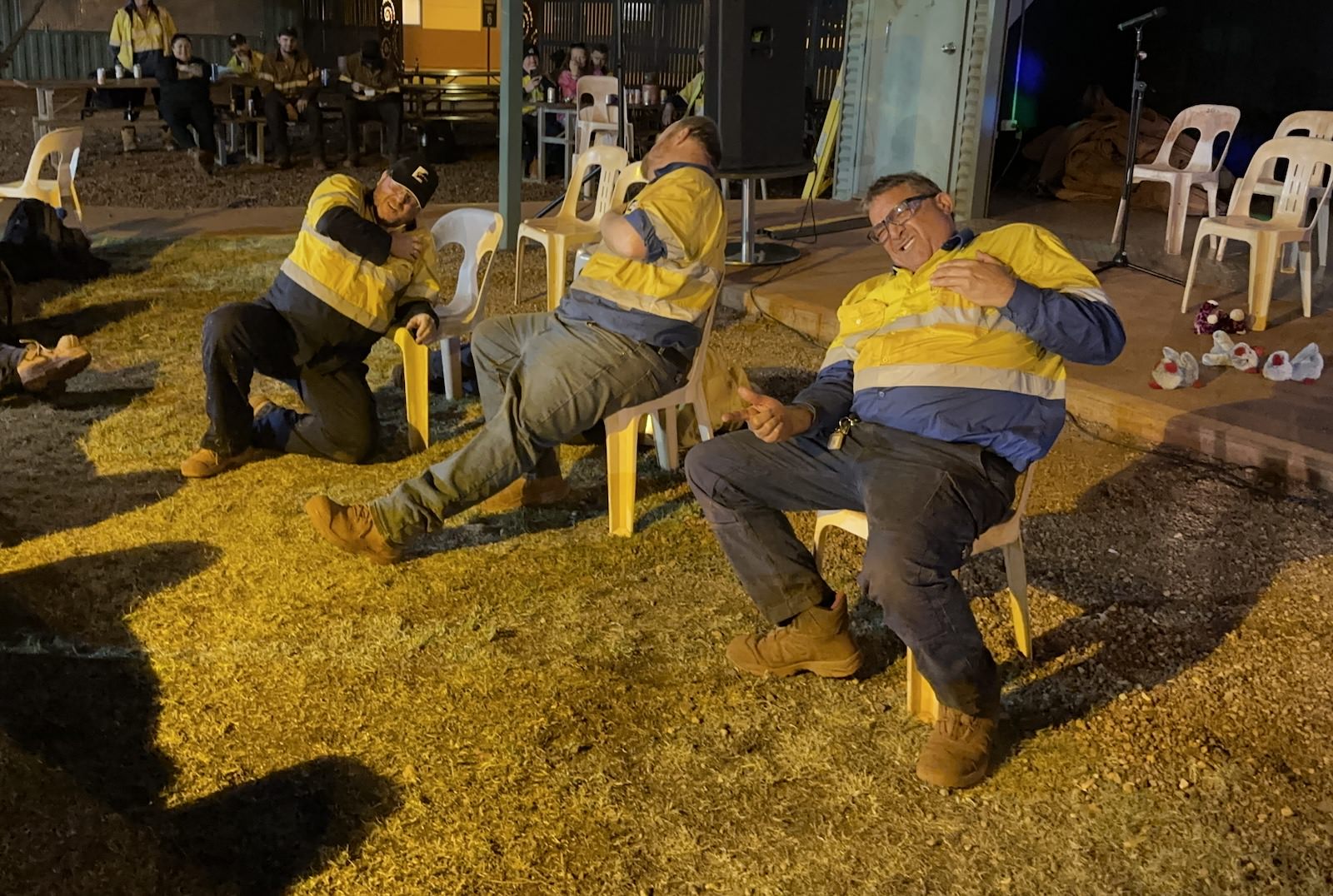 The Benefits of Our Comedy Hypnotist Show
Team Building Laughter fosters a strong sense of unity among your team, contributing to improved cooperation and teamwork. It's a great time to check in with your colleagues and ask, "R U okay?"
Stress Reduction Mining can be a high-pressure environment. Our comedy hypnotist show is the perfect remedy for reducing stress and promoting mental health.
Improved Morale Happy employees are productive employees. Boosting morale through laughter can lead to increased productivity and job satisfaction.
Tailored Packages We work with a wide range of sites, from those with existing facilities to more basic locations. Our flexible packages cater to your site's unique requirements, ensuring the mental health and happiness of your workers.
Logistics and Equipment
We get it. Mining is always in a state of flux. Some camps are well established with all the facilities one might need, a performance area and even PA sound equipment and lighting. And others seemingly sprung up last month. No matter what your situation we can work with you to get the right production equipment on site for your event. Speakers, lights, whatever. We'll make it simple and stress free.
Book Your Mining Camp's Comedy Hypnotist Show
Entertainment is not just a luxury; it's an essential part of maintaining a healthy and happy workforce in the mining industry. Contact us today to book our Comedy Hypnotist Show for your mining camp, village, or mine site. Let us bring laughter, well-being, and an unforgettable experience to your team, ensuring they're ready to tackle each day with renewed energy, enthusiasm, and good mental health. Your team's happiness is our top priority!
Clean Hilarious Fun
We get it. Sometimes it's hard to plan far in advance. Covid restrictions, travel problems, and even other people cancelling can really throw a spanner in the works. We'll help if we can . . .
1. If we can get to your event in time we'll do your show even if you book at the last minute. No matter where it is.
2. You'll get the same high quality professional comedy, at no extra cost.
Alternative page: Corporate Events 2