About Comedy Hypnotist Gerard V
Background, personal and professional information.
Comedy Hypnotist Gerard V has been hypnotising people since 1994, and did his first stage show in 2005.
Gerard is a certified Master Practitioner of Hypnosis and Neurolinguistic Programming, and has a Diploma in Stage Hypnotism from the Alberta Institute of Hypnosis.
He's a natural entertainer, and a big hit at parties and conferences. He has been booked all over Australia, New Zealand and the USA doing shows as large as 800 people and as small as 12, in back yards, large auditoriums and Casinos.
Who is Comedy Hypnotist Gerard V really?
I entertain as Gerard V because people can remember that easily, and spell it correctly too.
My proper name is Gerard Verschuren. My friends often simply call me GV. And sometimes I get Gerald or Gerald V but I don't like being called "Gerald" so much.
This is my website: www.gerardv.com.
I live in different places, Melbourne, Victoria, Australia; Sydney, New South Wales, Australia; Brisbane, Queensland, Australia; Adelaide, South Australia, Australia; Norfolk, Virginia, United States and in Parnell, Auckland, New Zealand. .
I travel frequently between both centres and call each one home. I travel to other countries too (I'm fortunate to be able to do that), well, at least until Covid-19 disrupted travel to almost everywhere.
I am a comedian entertainer. A Comedy Hypnotist for hire at Comedy Hypnotist - Gerard V and my mission is to travel the world making people laugh.
Bio and Background for Comedy
Hypnotist

Gerard V

Born at an early age, Gerard V soon became a tech geek computer guy with a successful technology career. But in 1994 he received a pamphlet in the mail: "Learn to Hypnotise in a Weekend".

Not believing that such a course even existed, or that it was possible to learn something so cool in such a short time, Gerard contacted the organisers to check them out. Sceptical about their claims but still curious, he enrolled in the weekend course.

"I was completely surprised to find that it didn't me very long to learn to hypnotise", says Gerard V. "I had hypnotised my first volunteer 2 hours after the course started, it seemed easy to me.".

"Some people are naturally good dancers or singers, it turns out that I am naturally good at hypnotising people. I was as surprised as anyone could be to find that out".

Gerard went on to complete diplomas in various forms of therapy, and has given up his work in the computer industry to be a full-time entertainer.

"In 2005 I had had enough of my corporate life and thought why not go on stage and be an entertainer? Not long after that I did my first show which turned out fairly well, but I wanted much better than to be merely Ok. I quit my day job entirely in 2013 to focus full-time on corporate entertainment and fund raising.".

A large part of the credit for success of Gerard's show goes to Simon Murcott who designed the sound and light production that goes with the show, and is often integral to the actual performance.

"Simon turned up to our first show with a great deal of equipment, and no idea what would actually happen", says Gerard V, "I told him to just do what seemed right and we'd wing it from there; and that is how we do every show. We improvise constantly based on the volunteers and the audience reaction".

Gerard V watched the video of his first show over and over, thinking of ways to make it better and in his own words "cringing at my mistakes even if no-one else really noticed them!" One of the guests at that first show booked Gerard V for another show, and while the first show was Ok, the second show was outstanding.

Gerard V has gone on from there to perform throughout Australia, New Zealand and the USA, at sports clubs and corporate events (he is a hit at company Xmas parties). He frequently does fund raising shows for schools charities and sports groups.
The No Sleaze Family Friendly Hypnotist Show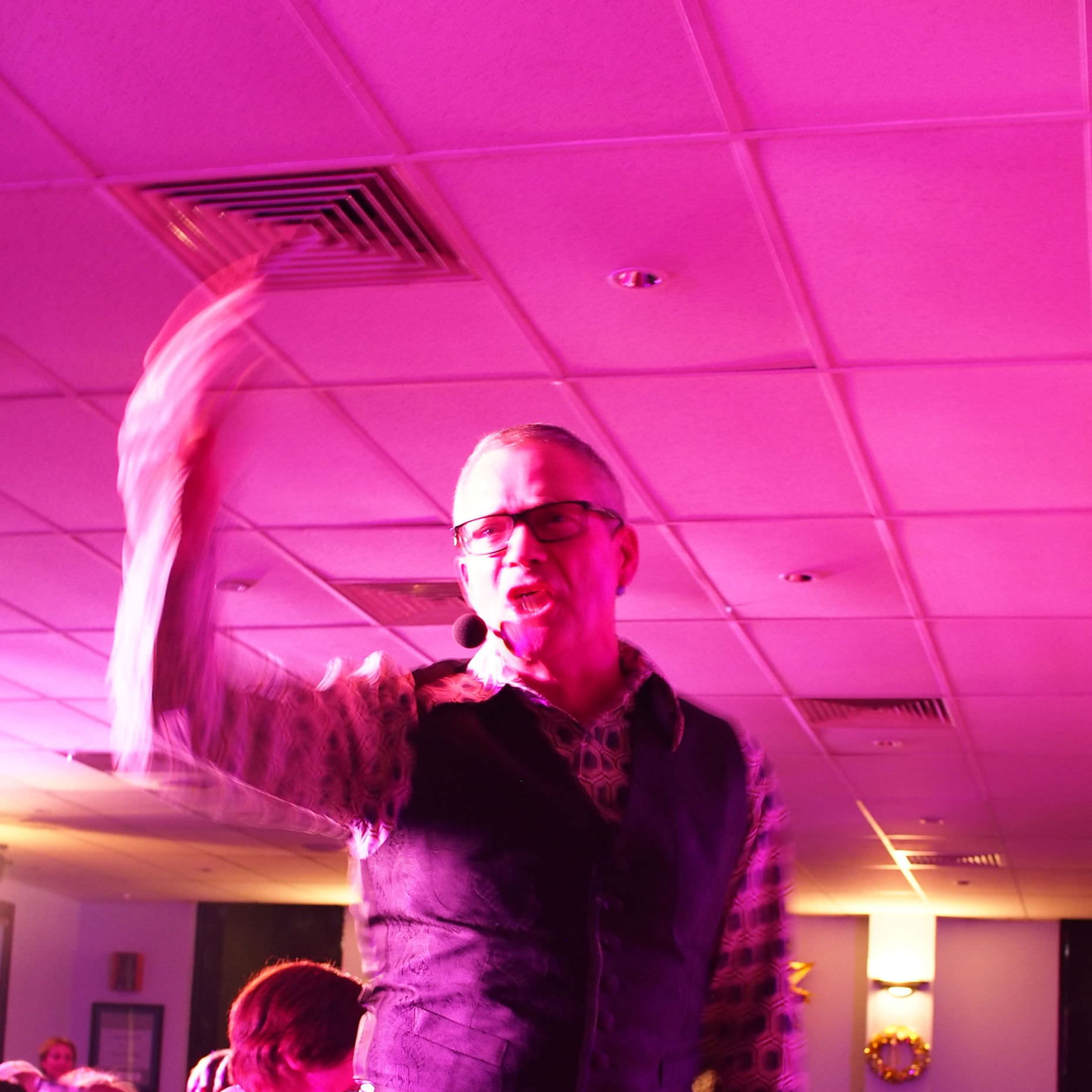 Another unique feature of Gerard's show is the way he treats the audience and his volunteers. He is a professional party entertainer and careful to treat the volunteers as guests and as stars, there are no humiliating gags or embarrassing skits. "I really dislike the common practise overseas of laughing at someone else's expense. That is mean and not the way I was taught to behave. I want my volunteers to come back next time and to invite their friends. So we treat them like the stars that they are. We use a theatre sports style of presentation, improvised theatre, and everyone loves those folks for their skills."
The show is now very polished, and continually changing and adapting with new material, new jokes, and even better production equipment.
"We love our toys. The idea of just turning up with a microphone and using the house lights and PA just doesn't appeal so I avoid that where I can. People want a show, and to feel immersed in the event even if they are not on stage. We like to have complete control of the sound and the lighting to create a real sense of occasion".
"We want everyone to have the best time!"
Gerard's full name is Gerard Verschuren. He was born in Christchurch, New Zealand.
Gerard V is now based in . He only charges travel from his nearest base (Melbourne, Brisbane, Wellington, Dordrecht, Norfolk VA, or Los Angeles) for for example if you book him in Townsville he'll travel from Brisbane. If you book him in London he'll travel from Dordrecht etc.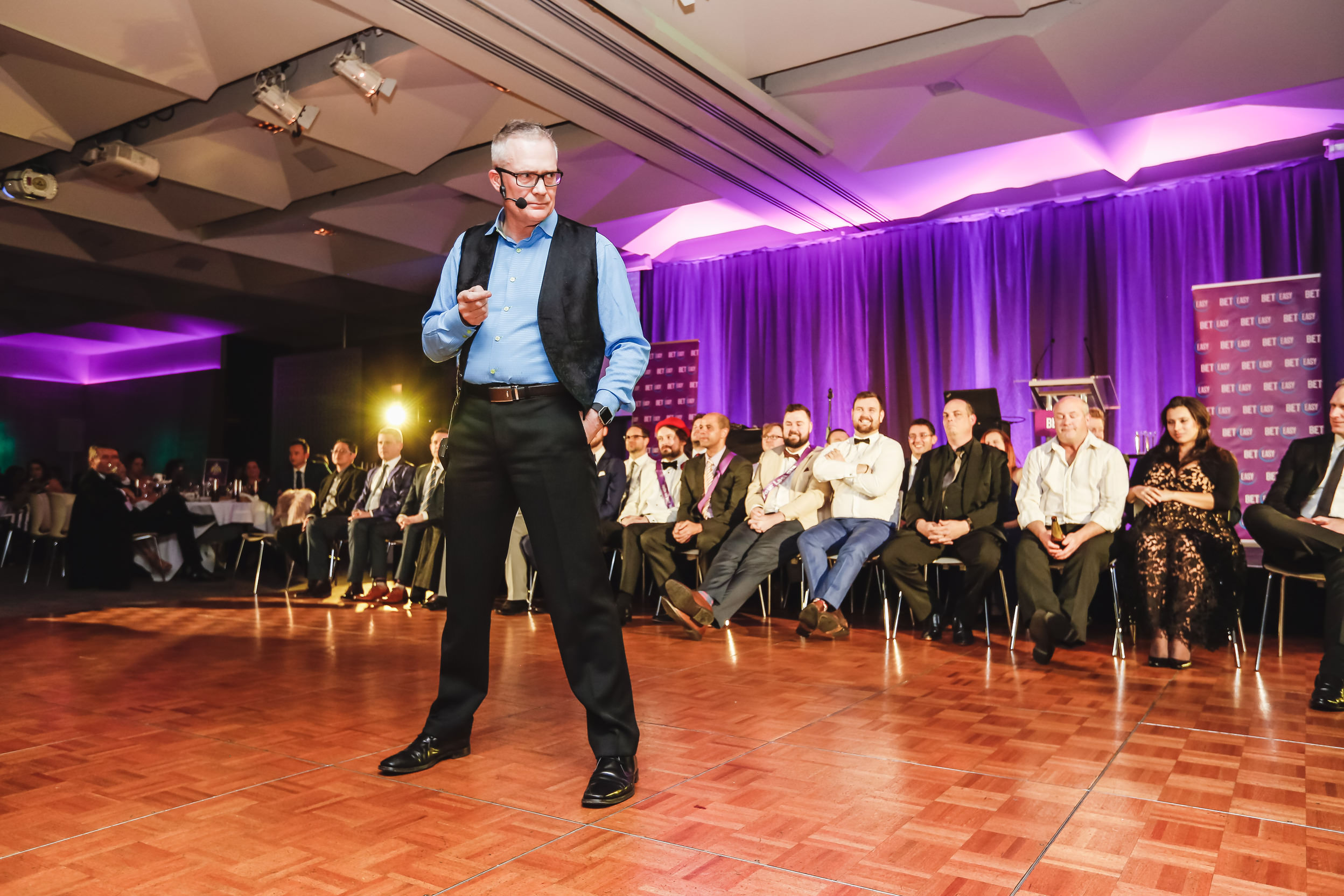 Comedy Hypnotist - Gerard V