Clubs, Pubs and Licensed Venues
It's a Great Show
The entire audience were captured, people were laughing so hard they had tears running down their faces as they watched the volunteers. Some people had been a bit worried they would be picked on to perform but Gerard reassured everyone.
Junior All Blacks
Gerard V has worked with clubs around Australia, New Zealand and the USA, and always puts on a terrific show. Gerard V is a brilliant hypnotist, hilarious, charming and original. The show is very flexible, and Gerard tailors the gags and the humour to suit the audience and the occasion.
The Volunteers Are Stars
We use only volunteers from the audience. Unlike some entertainers, we do not select the most suggestible from the crowd against their will. We ask you to volunteer, and when you come up on stage we treat you like the star you are. Deep down inside every one of your colleagues and your team there is a natural performer. You'll be amazed at what people will do on stage.
Hilarious But Not Embarrassing
Gerard V wants you to come back to every show, and to volunteer again and again. And to make sure that happens he selects gags that are funny, like theatre sports and "Whose Line is It Anyway?", and not embarrassing. The volunteers will have the best time of everyone.
You Need About 50 or More People
Small shows can work, and Gerard V will do them. However a practical minimum is around 50 people in the audience at the start. That way there will likely be ample volunteers, and among the volunteers, there will be a goodly number of great hypnotic candidates (we call them rock stars!).
A Local RSL / RSA Club
You have become a local legend. Everyone is raving about your show and I've been bombarded with text messages asking for another show to be organised. One person even suggested a show every 2 months!! The show was fantastic, very professional and so hilarious. You far exceeded our expectations. Thank you so much for a thoroughly entertaining evening.
Jo Hobbs - Otaihape Club
Lights Action and Camera
That Hypno Show features a high quality PA system, stage lighting and a whole technical setup complete with professional sound engineer. Gerard Vis not "just some guy with a mic". No, he is a guy with lots of gear, and a very fancy mic (sometimes he even wears a suit).
No Surprises
The best shows are not a surprise on the night. The audience is expecting a hypno show. It is not that we won't do surprise shows because we have done them and will do more. But check with us first – these need to be handled with special care.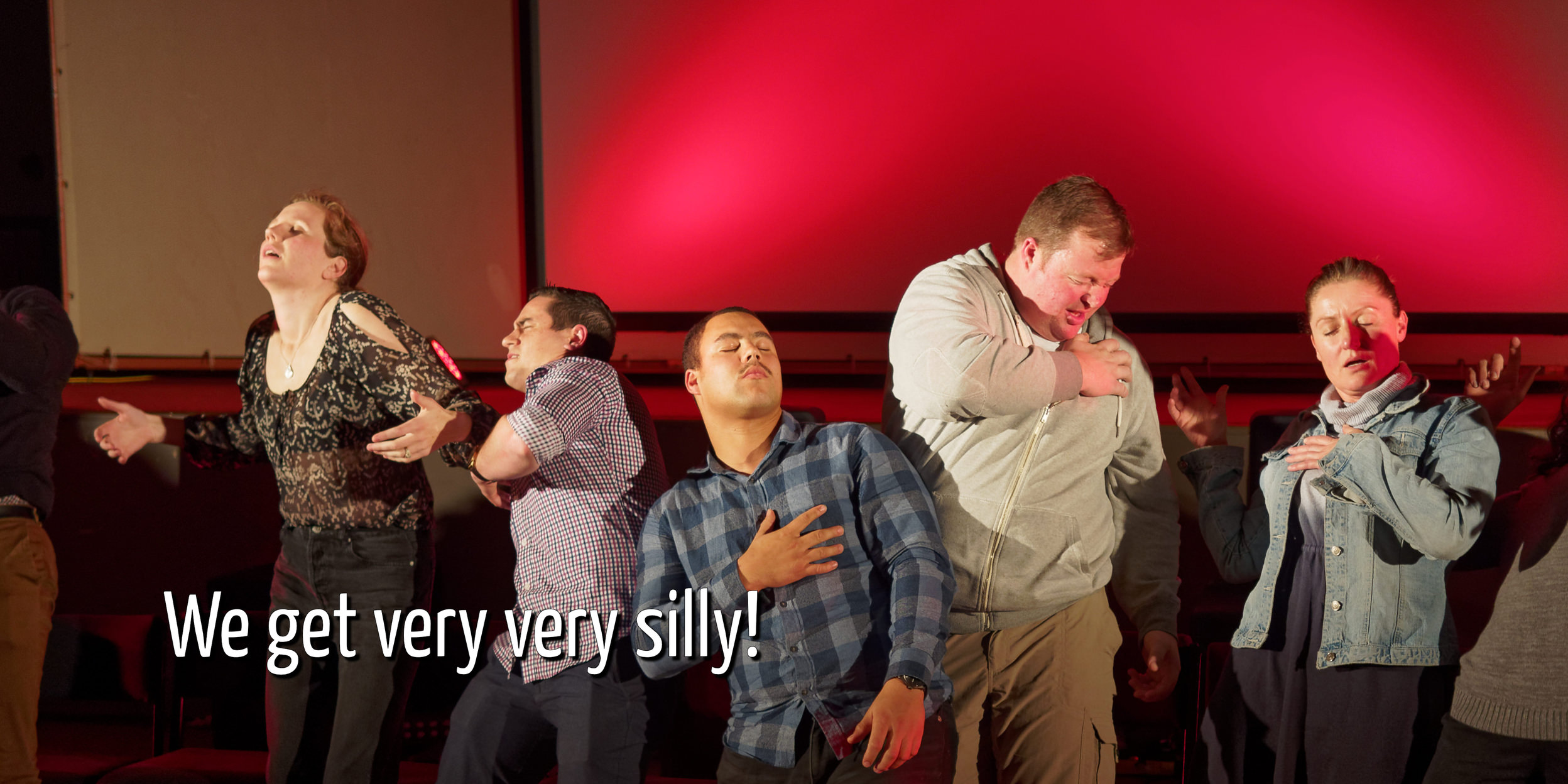 What about R18 and X Rated Shows?
If you advertise in advance that it will be R18 or X-rated, and if you are going to have a good sized crowd, then we will rise to the occasion (as may some of the audience). By default every show is "family friendly" unless specifically billed as something different.
Posters and Promotion
Gerard V can provide poster and ticket artwork if you need it. We can also provide you with graphics to design your own. However a few posters and a newletter will not be enough to sell out your venue – you will need to put in some genuine effort. Our most successful club and pub events have been where the venue has promoted it well themselves, using a mixture of media, word of mouth and general community involvement. A couple of posters in the mens loo just doesn't cut it. Before comfirming a booking we need to be comfortable that the show wil be successful for everyone, and promotion is a big part of that.