Testimonials and reviews
Testimonials from corporations and conventions from around the world - Australia, New Zealand, USA (Gerard V goes everywhere that he can).
Patterson Cheney - Car Dealerships
[Our] Expectations were exceeded. In a room with a very tough crowd, Gerard was more than able to provide an amazing show. It was a perfect event that provided quality entertainment had was just superb. Gerard was a delight to work with and I highly recommend him.
Daniel Waixel - Patterson Cheney - Car Dealerships
Nationwide Travel
Gerard thrilled guests at our annual awards dinners with rave reviews. 'Best dinner ever', 'Fantastic to see people we know up on stage entertaining us', and the big one: 'What was it like? Do you remember anything?'.
Our dinner falls in the middle of a trade fair weekend and it was all anyone was talking about the next day.
What a highlight. Highly recommend to liven up any event!
Helen Hunter-Lee - Nationwide Travel
Toyota 2022
Gerard was brilliant and entertaining, the crowd were laughing from start to finish. Would highly recommend him for your entertaining requirements!
Eliza Vesey - Conference Organiser (Toyota)
and
Thank you, was a great show!
Jenna Green (Toyota)
Komatsu
Thank you for a very entertaining show – the team and I really enjoyed every moment of it and laughed nonstop. Thank you for making our night extra special.
Kristy Gerges - Komatsu
Sunshine Toyota - End-of-year Party
We were absolutely delighted by Gerard's Comedy Hypnotist show at our 2019 Sunshine Toyota Christmas party. During the planning of the party, Gerard let us know that the more people that volunteered to be hypnotised- the better! Our team were really keen and we had lots of volunteers and it made for the funniest night that the team are still talking about! The whole room was in hysterics watching the antics of our hypnotised co-workers! The best part was that the show was completely G-Rated, making it suitable for all kinds of events and functions. I would not hesitate to recommend Gerard, his show was so memorable and he was a pleasure to work with.
Sunshine Toyota - Queensland Australia
From Google Reviews
McCready Bale Media
"Gerard and his team exceeded our expectations for a hypnotist show. A modern, comedic take on hypnotism, which everyone including those involved throughly enjoyed. So easy to work with, coming equipped with everything needed to really elevate our Christmas party, and went above and beyond by letting use use his sound equipment for the day. Everyone left happy and with most saying 'if they knew it would be like that, we all would of volunteered. Would definitely recommend for all events!
Thanks, we really did love the show. Still talking about it! "
Ellen Chote - McCready Bale Media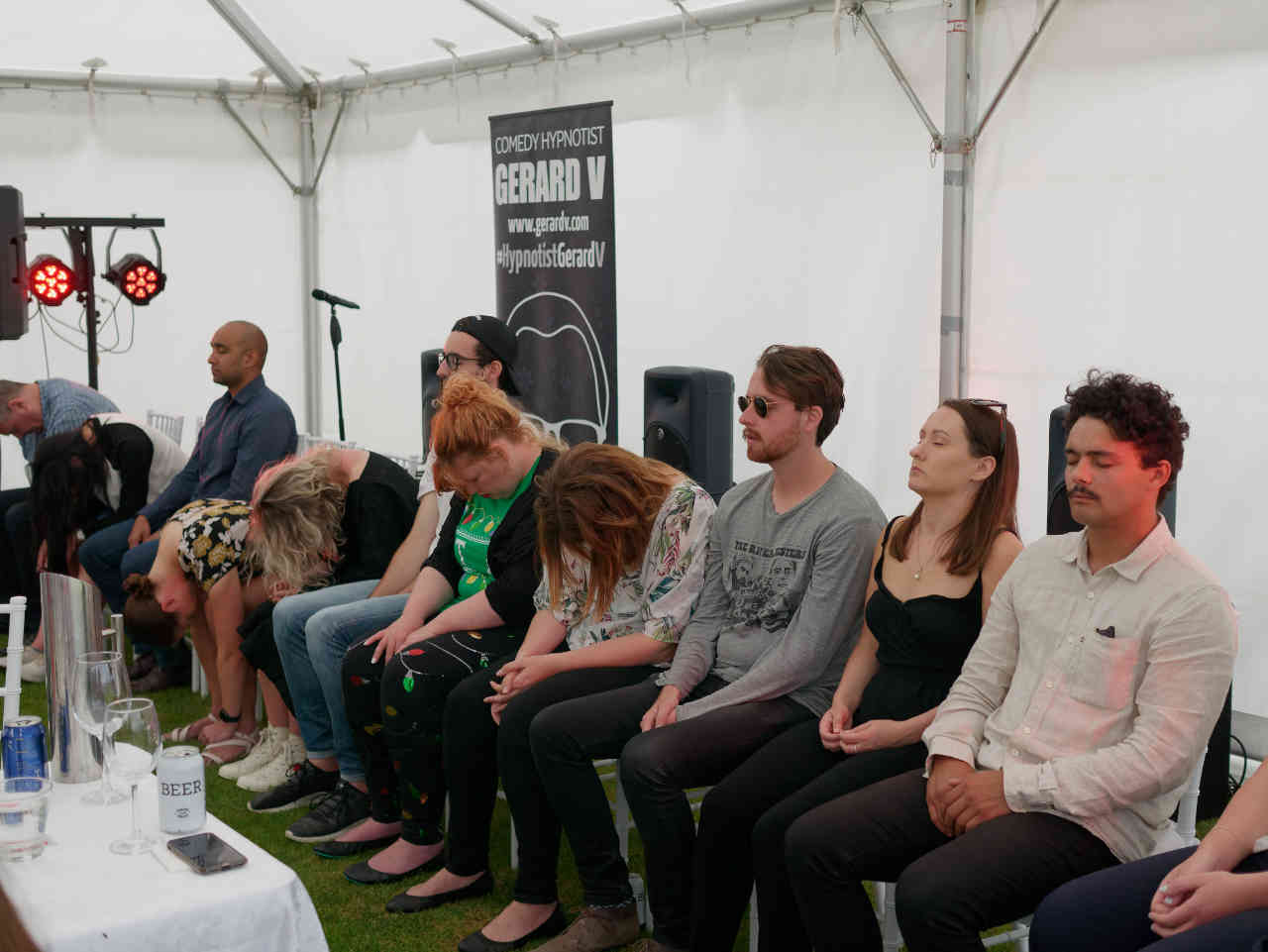 Brazilian Butterfly Conference 2018 - Melbourne
"Had the whole room in hysterics. Was the perfect entertainment for our work conference event. Was a hilarious way to wrap up our day and get everyone in a good mood. Nothing confronting or rude, just a lot of light-hearted fun, we couldn't believe what we were seeing!"
Maya Mathews - Brazilian Butterfly
"I actually thought I was going to die from laughing!"
Avis Budget Group 2
"Thank you for putting on such a professional and funny show, we have utilised your services over a number of years now, the professionalism shown and commitment to deliver an outstanding commercial hypnotist show for our key clients is simple wonderful. The feedback we have received over the years has been extremely positive from everyone whom have attended the shows. We look forward to working with you in the future."
Ross Morley - National Sales Manager Avis Budget Group
Deloitte Wellington
Thank you! Everyone had a great night, having you is always a hit and I'm sure we will have you back again!
Samantha Hopkins - Deloitte
Avis Budget Group
This was a shared event between Avis Budget Group and APX Travel
"Thank you for such a fun evening on Friday Night. Our clients certainly appreciated it and we have had some fantastic feedback already."
Astrid Boore - Avis Budget Group