Testimonials and reviews
Testimonials from clubs, RSLs and sports clubs from around the world - Australia, New Zealand, USA (Gerard V goes everywhere that he can).
Mentone RSL
It was the funniest night I've ever had. Just amazing
Suzanne Youren - Mentone RSL via Facebook
Mentone RSL - 2022 - 2
Thank you for putting on such an entertaining show, all reviews I've received have been overwhelmingly positive.
Claire Falkingham - Manager Mentone RSL
Mind Magic Show Club Mudgee with Andy Vening
The show in Mudgee was amazing, more people should have come along. The whole show was hysterical. I'd definitely love to book Gerard and Andy for an event.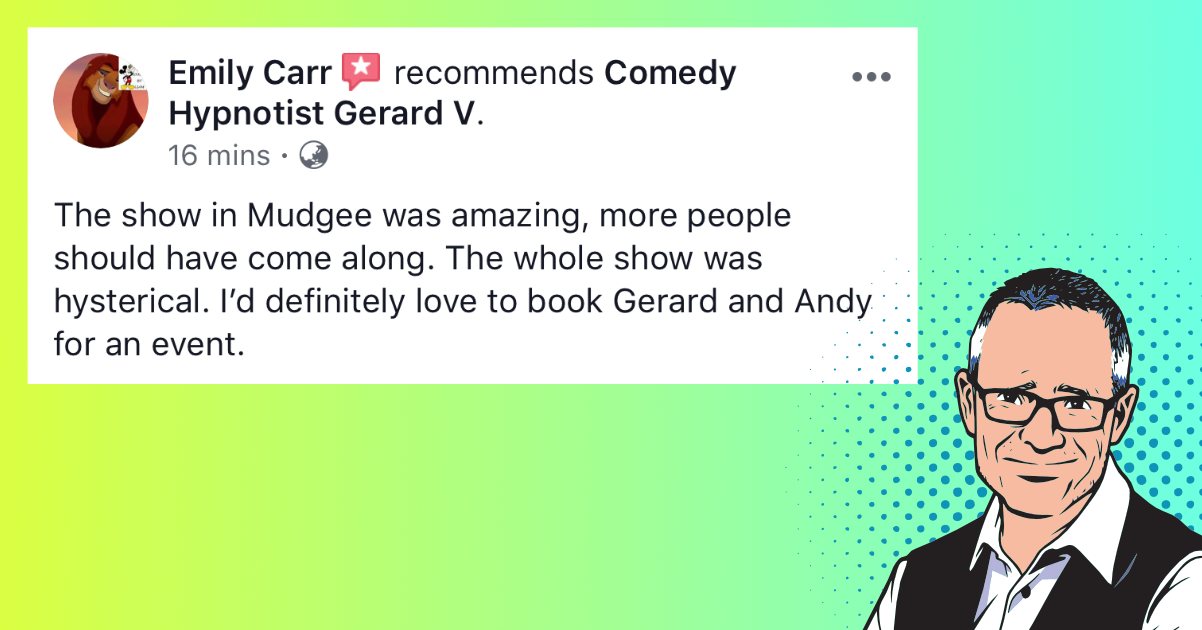 Boisdale Briagolong Football Netball Club
We had Gerard V come to Boisdale Briagolong Football Netball Club and he was unbelievable. The show was hilarious, everyone was in laughter all through out the show. Gerard's show is a very clean funny show. I highly recommend Gerard he is great and was affordable for our small country club.
Rachel Weatherley - Boisdale Briagolong Football Netball Club
Beechworth Football Netball Club (VIC)
Absolutely brilliant show! Thank you Gerard, we'll definitely have you back.
Kelley Bradley - Beechworth Football Netball Club

South Central High School (USA Tour)
While in the USA for a conference I did couple of after-prom high school shows. Here's the feedback from the first one:
Appearance: 5 out of 5, Quality: 5 out of 5, Response of audience: 5 out of 5, Entertaining: 5 out of 5, Overall Satisfaction: 5 out of 5
"This show was the best part of our prom!!! I've seen many hypnotists but none as good as Gerard V."
South Central High School, Rockwell City, Iowa
Harley Owners Group Annual Conference entertainment (TAS)
"A great night Gerard V. Thank you do much for your support and flexibility!"
Paul Kilby - Harley Owners Group - Tasmania
Orbost Snowy Rivers Football Netball Club
Gerard V's hypnotist show proved to be a huge success to a packed house at the Orbost Snowy Rivers Football Netball Club. Gerard was an amazing entertainer who had the crowd in stitches from start to end. The show entertained everyone from young children, teenagers to adults. Would highly recommend booking Gerard for a fun filled night. Gerard was easy to deal with in planning the show making it a successful easy function for our club.
Megan Humphreys - Orbost Snowy Rovers Football Netball Club
Canberra Deakin Soccer Club
"If I was to summarise your show in one word, It would be MAGNIFICENT.
I have received numerous positive feedback even from those least expected. Throughout the whole show the audience were laughing and enjoying themselves. Exactly what the club needed leading up to the finals after a stressful year.
Your setup was great, you showed professionalism and most important you seem like a great person.
CFC will be definitely asking you back next year."
Tony Damico
Cooma Hotel New South Wales
"Gerard V performed at our Hotel to a sell-out crowd and absolutely everyone had a fantastic night. The show was comical genius, the production side of things was 100% taken care of and weeks later our customers are still talking about the hilarious antics of the evening. Gerard is a true professional, an entertainer that I would highly recommend to anyone."
Mik (Owner Cooma Hotel)