Fundraising Comedy Hypnotist Show and More Fundraising Ideas
Straightforward Community Events and Charity Fundraisers
If you're a community group or organisation looking for practical and effective fundraising ideas then have a chat with Gerard V.
A comedy night fundraiser or hypnotist show is a great, fun night out, and a lovely way to get your community, friends and supporter groups involved.
More social than a movie night
More spectactular than a quiz evening
Less work than a fun run
No matter your level of experience, a comedy hypnotiost show fundraiser is a good idea to explore. Talk to Gerard V about his availability and the costs involved (he does special deals for charities and good causes).
A Local RSL / RSA Club
You have become a local legend. Everyone is raving about your show and I've been bombarded with text messages asking for another show to be organised. One person even suggested a show every 2 months!! The show was fantastic, very professional and so hilarious. You far exceeded our expectations. Thank you so much for a thoroughly entertaining evening.
Jo Hobbs - Otaihape Club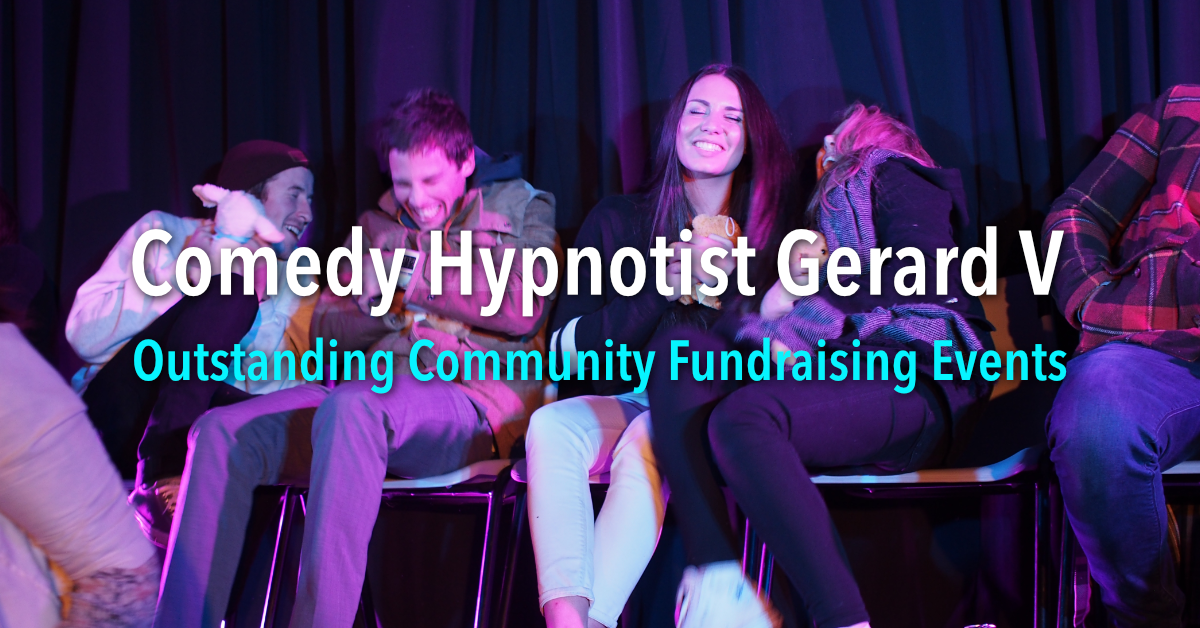 Gerard V will make it easy for you:
You can enhance your fund raising by involving local businesses. You can get them to:
Sponsor part or all of the cost of the performance or the venue
Contribute prizes to raffle or auction
Provide free or discounted food and drink to sell
It is a really good idea to sell your own drinks at the show even if this means you have to pay for the venue. You can make a lot more money if you keep the drinks profits too.
Culburra Cougars Soccer Club
... A huge thanks for coming to our fundraising event! The community have not stopped talking about how funny the night was. By far one of our most successful fundraisers in terms of attracting as many people as possible and getting everyone involved on the night. It was a great night.
Amy Loveday - Culburra Cougars Soccer Club
World Class Entertainment
Gerard V performs in Australia, New Zealand, USA and the Pacific Islands.
Hilarious
You'll laugh out loud and be totally amazed at Gerard's powers of suggestion. Suitable for all occasions and with no sleaze! Gerard V is an amazing conference, corporate and party entertainer.
G-rated comedy shows and party event ideas!
Comedy Hypnotist Gerard V does amazing and hilarious comedy hypnotism stage shows. He involves people only as much as they want to be. Except that laughter is guaranteed and cannot be avoided. You'll be entranced by his seemingly magical powers and spell-binding ability to mesmerise his volunteers.
Sound, Light & Production
For certain events Gerard V can bring a sound and lighting rig for the show. Basically, if he can drive there from one of his several base depots around Australia or NZ then he can bring equipment with him. That can save you considerable cost and the hassle arranging it yourself.
And remember that if you're going to have a good number of guests in the audience - a decent sound system is a must.