Testimonials
Testimonials from Corporates, Schools and Clubs around the world - Australia, New Zealand, USA (Gerard V goes everywhere when he can).
---
"I haven't laughed that hard for ages.
It was so funny I was crying."
Amy Wilkins - Midwest Fabrication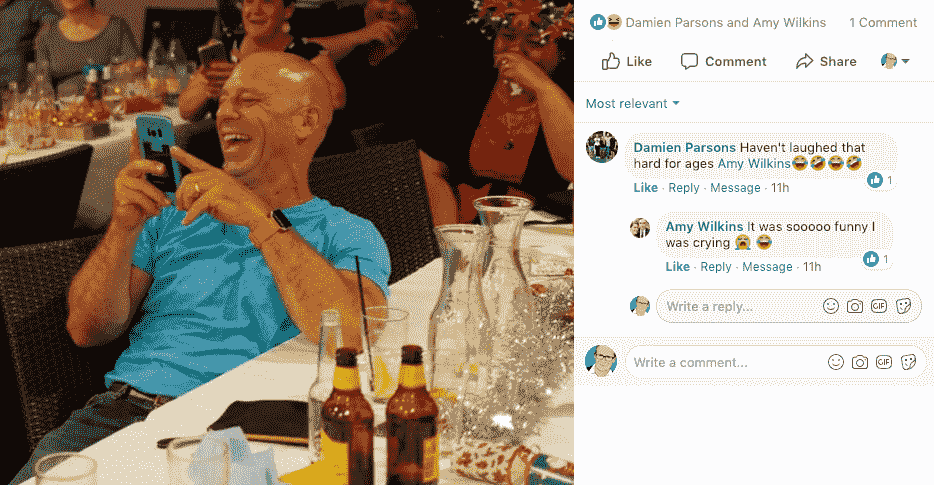 ---
"We recently had the pleasure of having Gerard perform at our annual Client Christmas party. The show was full of belly laughs and appropriate comedy to our 200+ guests who thoroughly enjoyed the show.
No one was pressured to participate as it was volunteers only. We had guests going under at their tables during the show, which goes to show how engaging it was!
Thank you Gerard and Kim for the great afternoon. You left us wanting more and we appreciate how you accommodated your show to suit our event."
Juliana Matos - Bridges Financial Services
---
"Gerard and his team exceeded our expectations for a hypnotist show. A modern, comedic take on hypnotism, which everyone including those involved throughly enjoyed. So easy to work with, coming equipped with everything needed to really elevate our Christmas party, and went above and beyond by letting use use his sound equipment for the day. Everyone left happy and with most saying 'if they knew it would be like that, we all would of volunteered. Would definitely recommend for all events!
Thanks, we really did love the show. Still talking about it! "
Ellen Chote - McCready Bale Media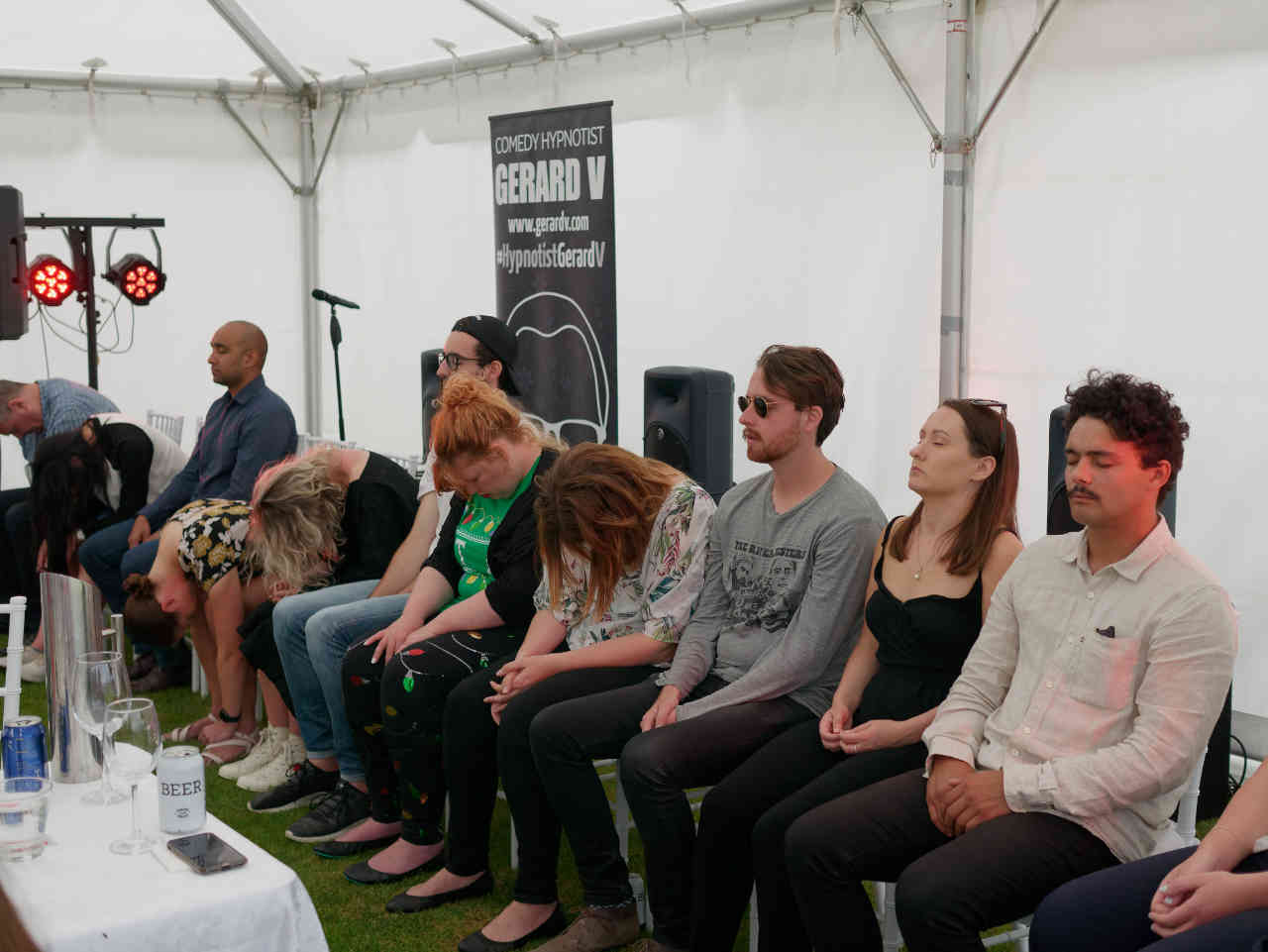 ---
"Just wanted to say on behalf of Nitro Sibir, "THANK YOU" for Saturday night. It was a real eye opener and very entertaining! I thoroughly enjoyed myself – and my voice is still hanging in there!"
Jen Brown - Nitro Sibir
---
On Wednesday afternoon JPC's Senior Exercise Science, Psychology, Sociology & Religion classes were lucky enough to have famous Kiwi Hypnotist; Gerard V (https://gerardv.com/) come and perform.
In their respective classes, the students have all been looking at how the brain works and the impacts in relation to their relevant subjects. Gerard V was engaging and had the volunteers completing a number of humourous actions, from pretending to be household appliances like toasters and blenders, to singing nursery rhymes in styles like opera and heavy metal. Beyond the entertainment, Gerard was able to give students some valuable insights into how hypnotism works, what is happening in the brain and what it can be used for in relation to sports, therapy and general wellbeing.
All involved were thoroughly amused and have taken some valuable lessons from this experience. It was also a great experience for a number of Gungahlin College students who were invited to join the show.
St John Paul II Catholic College - Canberra
---
Thanks for a terrific show. You captivated our group of 150 people with lots of clean fun and laughter and all the feedback has been extremely positive. You helped make our presentation night a huge success!
John Karayiannis - President, Coniston FC
---
The show received very good feedback from the punters and really helped the night along as the main social event of the conference.
Mark McDonald - ALSA CEO
---
"Had the whole room in hysterics. Was the perfect entertainment for our work conference event. Was a hilarious way to wrap up our day and get everyone in a good mood. Nothing confronting or rude, just a lot of light-hearted fun, we couldn't believe what we were seeing!"
Maya Mathews - Brazilian Butterfly
"I actually thought I was going to die from laughing!"
---
Absolutely brilliant show! Thank you Gerard, we'll definitely have you back.
Kelley Bradley - Beechworth Football Netball Club

---
Thank you Gerard! We really loved your performance! Hopefully we'll see you back soon!
Great Ocean Road Brewhouse
---
Hilarious evening for our annual national sales conference. Would definitely recommend!
Cassie Grmusa - Clevertronics Melbourne, Australia
---
If you ever wonder why I do the show the way I do it, g-rated, always clean - and why I treat the volunteers with utmost respect - this is why. This on stage volunteer completely summed up my motivation for doing the shows this way.
It really made my day.
---
"Gerard created a fun and energy-filled environment at his show. The audience really got involved and people loved watching their colleagues have a laugh on stage. The entire show was completely 'work appropriate', which was perfect for our business audience."
Andrew Crerar, Ryman Healthcare
---
Joanne Bailey, Singleton NSW, via FaceBook
---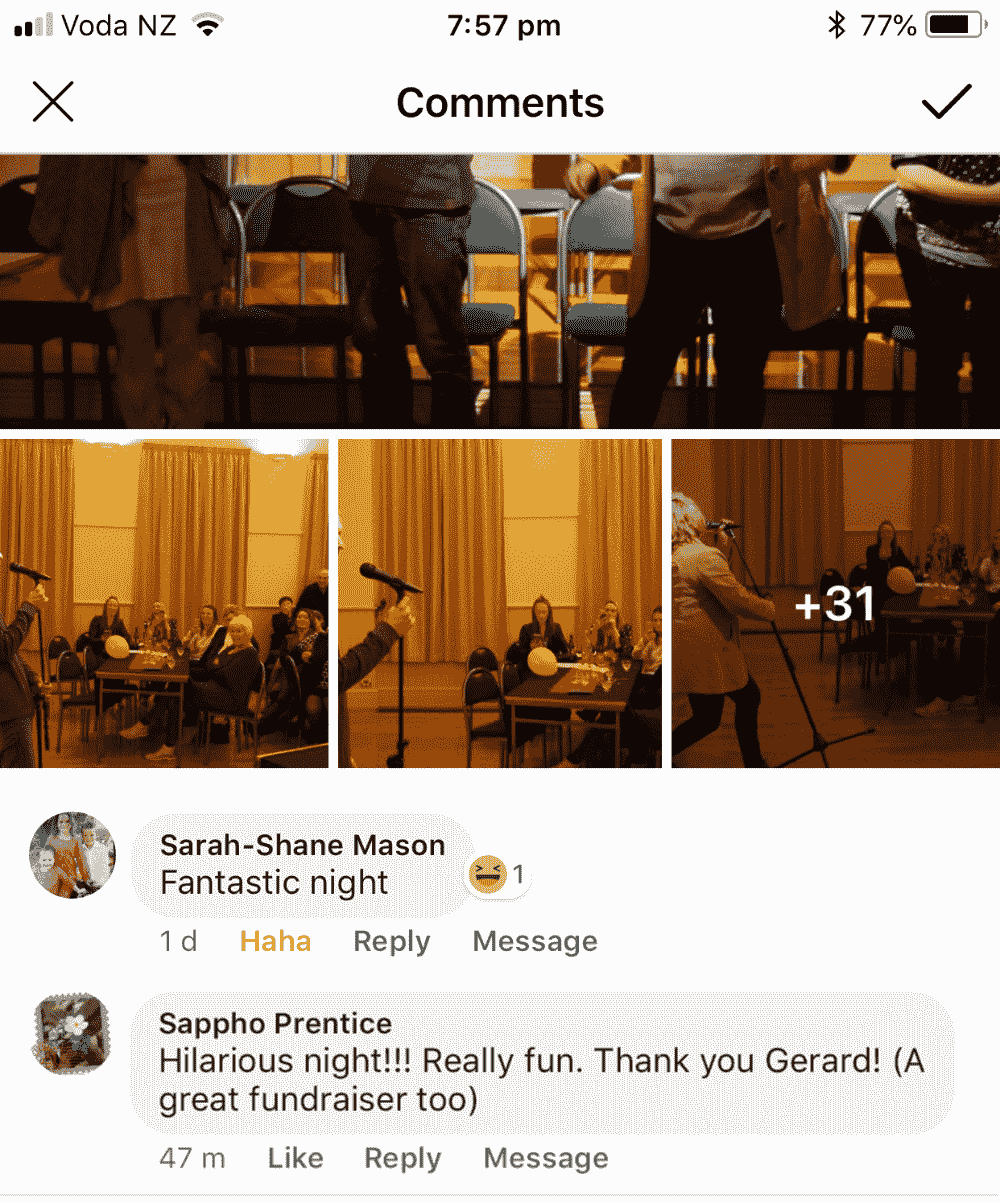 "Hilarious Night. Really fun!! (and a ngreat fundraiser too)"
Port Chalmers Kindergarten, New Zealand
---
"Great audience participation. We were very pleased with Gerard V"
Vandalia High School, Illinois
---
South Central High School, Rockwell City, Iowa
---
While in the USA for a conference I did couple of after-prom high school shows. Here's the feedback from the first one:
Appearance: 5 out of 5, Quality: 5 out of 5, Response of audience: 5 out of 5, Entertaining: 5 out of 5, Overall Satisfaction: 5 out of 5
"This show was the best part of our prom!!! I've seen many hypnotists but none as good as Gerard V."
South Central High School, Rockwell City, Iowa
---
We hired Gerard V for our dad's 60th and it was a smash hit. He was entertaining, interesting and fun. All our friends and family will be talking about this for years to come.
Samara Hodgson - Melbourne, Australia
---
"Had the whole room in hysterics. Was the perfect entertainment for our work conference event. Was a hilarious way to wrap up our day and get everyone in a good mood. Nothing confronting or rude, just a lot of light-hearted fun, we couldn't believe what we were seeing!"
Maya Mathews - Brazilian Butterfly
"I actually thought I was going to die from laughing!"
---
"Thank you for a great night very funny everyone had a amazing time still talking about it."
Carmel Hicks - Waranga Boat Club
---
"What an amazing night we had with the entertainment provided by Gerard V. We started the night with sceptics, but ended with believers and sore cheeks from laughing so much. Gerard was professional in his delivery of the show and ensured that our guests were safe and entertained. Our sincere thanks for making the night one to remember – our guests are still talking about it today." (2 months later)
Diana Ortisi - Melbourne
---
"We had an amazing night at our company's National Sales Conference with Gerard V's comedy hypnosis performance. It was hilarious to watch so many people get involved that wouldn't normally put their hands up and volunteer. It surprised us all!
It was a fabulous night and left us with many funny stories to discuss for the remainder of our conference. We would definitely recommend Gerard V to anyone looking to provide corporate appropriate and hilarious entertainment."
Cassie Grmusa - Clevertronics
---
"A great night Gerard V. Thank you do much for your support and flexibility!"
Paul Kilby - Harley Owners Group - Tasmania
---
"The Tasmania Chapter of Harley Owners Group (HOG) had Gerard V entertain us at our 2017 State Rally in front of 230 guests. Gerard was awesome keeping all involved those on stage and off. The show flowed beautifully and was good clean family orientated comedy. Gerard V was professional and very easy to work with touching base a couple of times leading up to the event giving me confidence that all was going to go well. Gerard V also worked in with other entertainment In a very professional manner and gave us the flexibility to do what we needed to also as we were running late with our programme of events. Thank you Gerard V we appreciate your professionalism and your show was awesome also, we had a lot of very positive feed back from the guests again thank you."
Paul Kilby - Tasmania HOG Rally Treasurer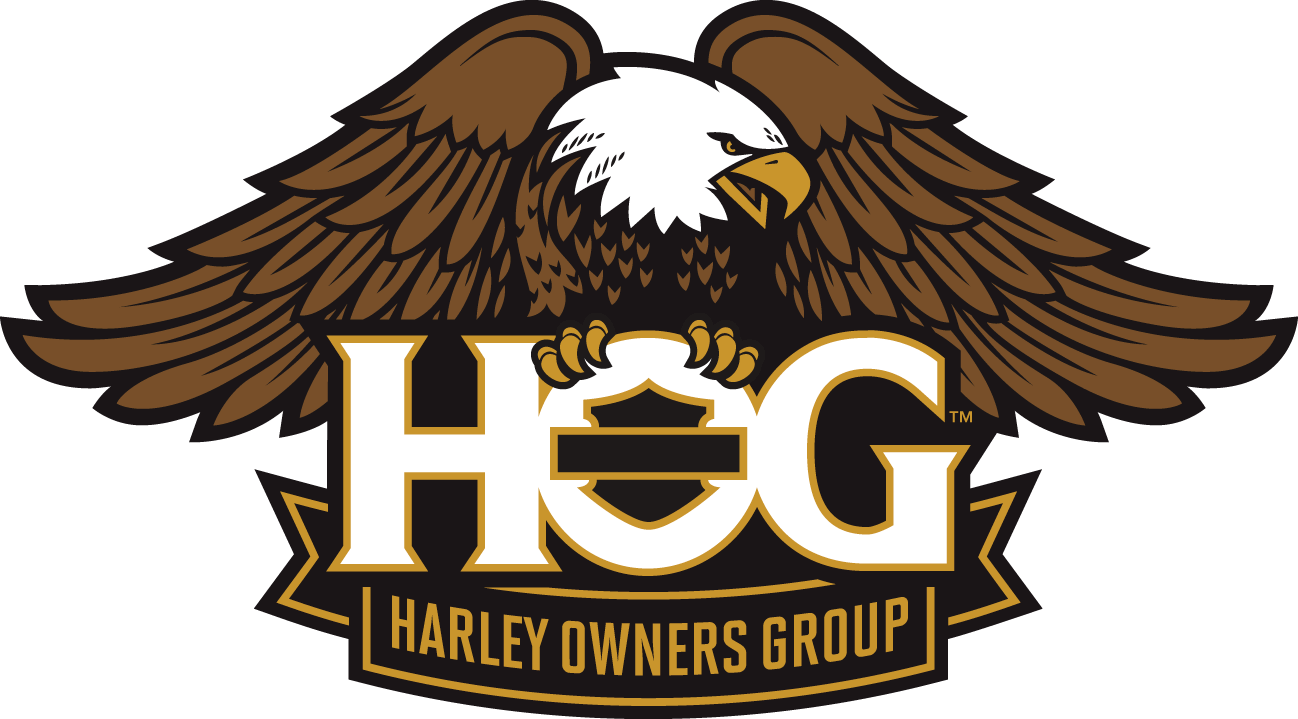 ---
"We had a great time last night and would definitely go to another show!"
Whitney Stemkowski - Bridgeport, Ohio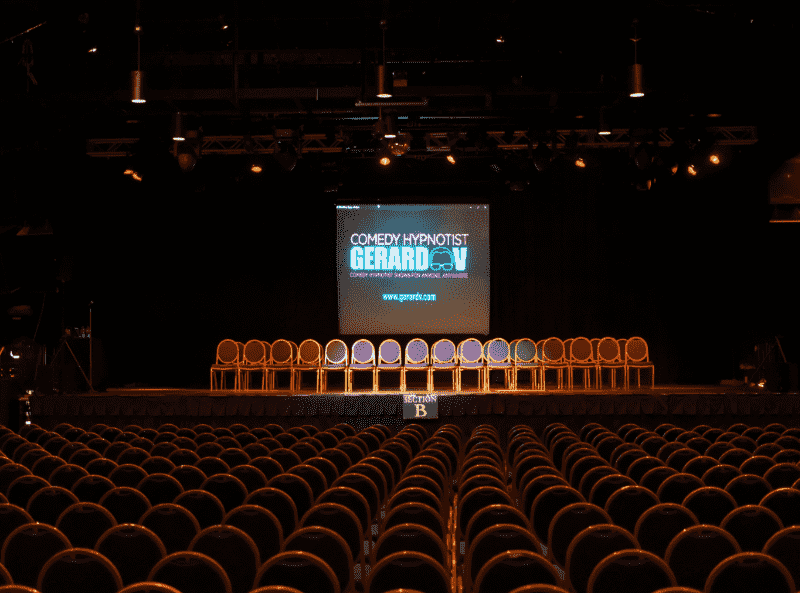 ---
"I loved what I saw, wish I could have been in there for the entire show. I will definitely pass the information on to all and hopefully we can have you back sometime in the future."
Melissa Druschel - Wheeling Island, WV
---
"Thank you Gerard V for an amazing & entertaining show for our staff Xmas party in December. We had an absolute blast & we still have laughs about it. We recommend your services to anyone looking for a good laugh & something a little different!"
Natalie Donders - Club Merrylands
This show was a staff function arranged by the social club and management of Club Merrylands, a bowling club in Merrylands New South Wales. It was a Christmas Party event with staff and some children that took place early afternoon. Thaty way it was easy for people to attend (and afternoon shows are often a bit cheaper too).
---
"We booked GerardV for our work Christmas party. Gerard was the consummate professional and took confident ownership of the group, thoroughly entertaining us all. We haven't laughed that hard in ages and the team haven't stopped talking about it since. The night was a huge success and our sincere thanks to GerardV and his team for giving us all a very unique and memorable experience."
Roslyn Hunter - Ordyss Aspire
---
(This was my first time to visit Orange NSW, and neighbouring towns. It was a fun road trip.)
PJL booked this as a Corporate Christmas Party Show for their staff from around the country. It was a great night and I enjoyed myself as did everyone else.
---
"Thanks for an awesome performance on Saturday Night. Everyone had a fantastic night and we are all extremely happy that we witnessed your fabulous work. There has been some outstanding feedback about your show so you should be very proud."
Manika Clayton - St Mary's School, Melbourne
---
"Lifestyle Warragul had the pleasure of the Gerard V Comedy Hypnotist show at our recent Seniors Week function. Our homeowners were initially sceptical but after the show we had many tell us that it is one of the best functions/show that we have had to date, and we have had many. Gerard is very professional and the show is good clean fun, full of belly laughs for all with no one being embarrassed later. We can highly recommend that you give this Comedy Hypnotist show a try."
Jenny Smith - Manager Lifestyle Village Community
---
"We used Gerard V for our preschool fundraiser evening. It was a brilliant night that was thoroughly enjoyed by everyone. Gerard was professional, engaging, funny and entertained us a lot. Audience members said they hadn't laughed so hard in a long time. We would love to see Gerard back again one day. Highly recommended - a fantastic night out and a great fundraiser idea. Thanks Gerard."
Sarah Sutherland - Kurow Primary School
---
Some comments that showed up recently on facebook.
---
---
"A fantastic, hilarious, crazy night. A unique and new experience for all that attended. Highly recommended."
Suzanne Brooks - Lancefield Primary School
---
What an amazing night. Gerard is very good at what he does. Never seen so many go under.
Samantha Allen - Rye Junior Football Club
---
Wow, what a treat. The third show for our small rural town. Our latest show would have to be the best one. Great turn out for this event and reviews have been amazing, as follows:
My cheeks are so sore from laughing!
Gerard's gentleness and sensitivity with a shy volunteer shows a deep respect for participants.
"He didn't embarrass anyone" people were free to be themselves
When is the next show, I don't want to miss it?
I did not expect to have such a wonderful time and to laugh so much
I did not realise my partner could actually sing like that! Amazing
You don't have to be on the stage to get hypnotised
It is an absolute pleasure to recommend this show and we look forward to many more hilarious shows in the future.
Fiona Frew - Karaka Learning Centre
---
We enjoyed the performance of Gerard V on Friday night and I wanted to express my pleasure about how the show went.
I had been recommended Gerard's performance but hadn't seen him myself before our night. It was a different type of performance for us from what we had experienced in the past and therefore a slight risk.
My trepidation was unwarranted as the show was outstanding and exceeded my expectations. Gerard was able to engage and hold our team for the entirety of the show.
The feedback afterwards was all so positive and I am still hearing positive comments now a few days after.
It can sometimes be a risk with something different but using Gerard was no risk at all it turns out. I highly recommend him and his show.
Mark Guthrie - CEO Ray White Cranbourne | Ray White Cheltenham
Ray White #2
Gerard was engaged for our annual awards night. We were unsure what we would be getting for the price initially but decided to take a chance.
As it turns out I cannot recommend Gerard highly enough, not just the show itself, but his professionalism and effort throughout from the first email contact, set up on the night and the show. Gerard arrived early, was so thorough in his set up, lighting, sound, everything was covered, he was lovely to deal with, interacted beautifully with our people and was committed to ensuring our event ran well.
The actual show was another thing entirely, to see our people up there under his command was amazing. The show remained funny, entertaining and most of all engaging and non offensive to everyone in the room, whether you were on stage or in the audience you had a great time. We run and attend events many times each year and I can confidently say Gerard was stand out among all that we see!
Jodie Hanssen - Ray White Cranbourne
---
Gerard thanks for a great night filled with lots of laughs. Your show is highly recommended to entertain a range of age groups and as we witnessed a show for families to enjoy.
Deanne Armstrong - Cobram Football Netball Club
---